Sunday, April 17th, 2011
Source:  ICECAP

By Joseph D'Aleo, CCM
In this special report, NOAA claims rapid warming of the oceans and record ice melt.
"Analysis by the National Climatic Data Center revealed that March 2011 was the 13th warmest on record since 1880. Temperatures in much of the U.S., Siberia, and Africa yielded land surface temperatures that were 1.49 deg F (0.83 deg C) warmer than the 1971-2000 comparison period; Canada, China and Southeast Asia, and Australia were cooler than average. The average global ocean surface temperature was 0.65 deg F (0.36 deg C) above normal, but as La Nina continues to weaken, this number may actually increase."
Lets look at the UAH plot of temperatures: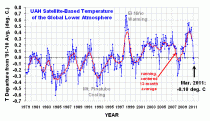 lowest prices on zoloft drug from an online pharmacy! before you buy zoloft, compare the best prices for zoloft. buy zoloft singapore buy sertraline zoloft Enlarged.
Dr. Roy Spencer notes: "The global average lower tropospheric temperature anomaly for March 2011 fell to -0.10 deg. C, with cooling in both the Northern and Southern Hemispheric extratropics, while the tropics stayed about the same as last month. "This is relative to the 1979-2010 mean. (more…)